Background and Who We Are
Advanced Solutions Nederland is a hi-tech design consultancy that specialises in providing custom-made DSP algorithms and hardware design services. Based in the city of Enschede, in the east of The Netherlands, Advanced Solutions Nederland was founded in 2006 by Dr. Sanjeev Sarpal, who saw a niche in the marketplace for small dynamic business to provide bespoke solutions to hi-tech industry. The response to date from the international scientific and engineering community has been very encouraging indeed, as we have already provided a range of state-of-the-art bespoke solutions for a variety of well respected international clients ranging from oil and gas to the automotive industry.
As a young business, we welcome opportunities to explore new and innovation avenues of research and development. Our international network of design engineers encompasses over 50 man years of knowledge and experience in DSP algorithm development, software development and hardware design, and is comprised of several doctors, chartered engineers (CEng) and other IT professionals. Our team strives to invest in the sourcing the latest technologies to best suit your needs using the best of today's technologies.
Dr. Sanjeev Sarpal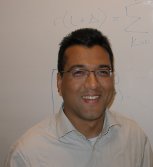 Director / Algorithms and analytics specialist
Dr. Sarpal holds a PhD in signal processing from Surrey University, UK and a BEng in control engineering from Huddersfield University, UK and has over 15 years commercial experience with DSP algorithm development, embedded software and analogue/digital hardware circuit design for sensor applications.
His specialties include: FMCW radar tracking algorithms for automotive applications, audio signal processing, noise cancellation, high precision instrumentation, stochastic signal processing and product design. He is the author of numerous technical articles on signal processing and in 2001 was awarded the title of Charted Engineer by the Institute of Engineering and Technology.
Gary Antonius

Business development manager
Gary has been delivering "end to end" business and strategic solutions to Fortune 500 companies globally for the last 15 years in various senior management positions working for companies such as Ricoh, APC-Schneider Electric, Genesis Global Services and Benchmark Electronics. His skills in (electronic) product development, people and operational processes were key to exceeding the desired results in numerous international projects.