Hardware Design: Research & Development Services
Comprised of a team with over 50 man years knowledge and experience in analogue, digital and mixed signal hardware design we have provided a variety of cutting edge solutions for the automotive, aerospace, industrial automation, medical systems, telecoms and consumer electronics industries over the years.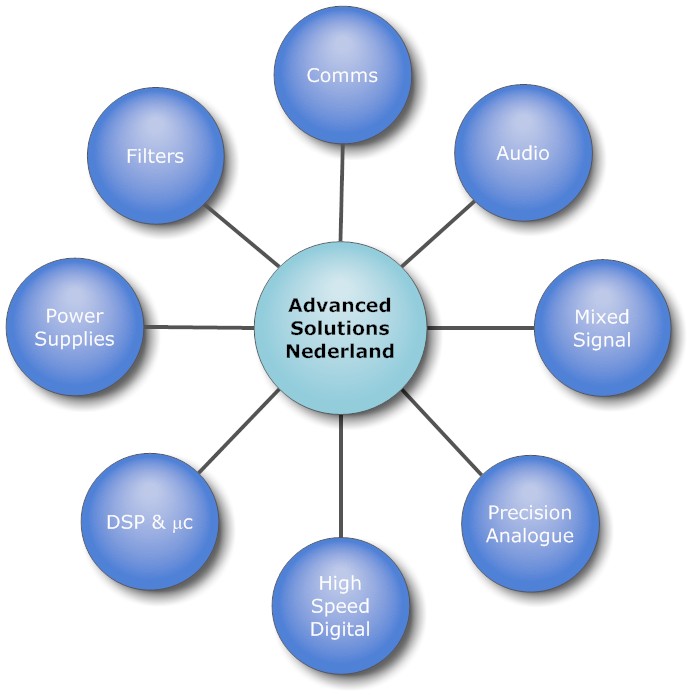 Using the latest references, simulation packages and computer aided design tools we are able to ensure working first time prototypes that are backed up by extensive mathematical analysis and experience. Our team is no stranger to producing Pspice simulation models and undertaking complex mathematical modelling when analysing the performance of a prospective design in order to highlight any areas of weakness that might exist. This rigorous process ensures that we get your product right the first time round!
We use a range of DSPs and micro-controllers in our designs in order to best match an applications processor to a specific design problem. Rather than using many different types of technology, we specialise in technology from the following leading vendors:


Analog Devices
Microchip
Texas Instruments

Depending on your application's component budget and desired accuracy/performance, we source our analogue, digital and mixed signal technologies from the following leading vendors:

Analog Devices
Linear Technology
Maxim-Dallas
National Semiconductor
Texas Instruments

Please feel free to contact us in order to discuss your individual project requirements.