Hardware Design Health Check (Save up to 50% on your R&D Expenditure)
Research has shown that an average electronics company requires approximately 5 weeks (from reviewing the final schematic to a tested PCB) in order to produce a working prototype. However, our experience has shown that this figure can easily grow to as much as 12 weeks if engineers have to fix an 'unhealthy' design by re-performing simulations,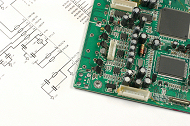 re-designing the schematic, reviewing the changes, and finally re-designing, manufacturing and testing the new PCB.
Our fixed price design health check (DHC) service has been specifically developed to address corporate issues of cost, efficiency, reliability and reproducibility. Our experienced team of design specialists is well versed in everyday issues encountered by companies engaged in electronic design, and is able to give you short turnaround leading to a sustainable cost saving, in some cases by as much as €30,000!

How it works
To begin the review process we simply ask all new clients to fill in our standard confidentiality agreement in order to ensure security of any exchanged information. After approving the confidentiality agreement we will send a signed copy back to you, and then one of design specialists will contact you in order to discuss your requirements further. The table shown below summarises what is included and excluded in the design health check:
Detailed review of client's specification.
Checking
Checking all component datasheets.
firmware/software.
Verifying correct use of each component based on manufacturer's data.
Netlist check.
Highlighting any flaws or weaknesses in the design.
Mathematical analysis.
Expert recommendations for improvements or fixes.
Production of a detailed review document.
How much does it cost?
The table shown below summarises the pricing structure used for the design health check, where each 'page' is assumed to be either in A4 or A3 format. For any clients requiring review of multiple hardware design schematics intended for multiple PCBs, please contact us for a specialised quotation.
Description
Lead Time
Price
Hardware design schematic of up to 12 pages intended for a single PCB.
1 Week
€1295 + VAT
Hardware design schematics of up to 50 pages intended for a single PCB.
3 Weeks
€4995 + VAT
Multiple hardware design schematics intended for multiple PCBs.
-

Contact us
| | |
| --- | --- |
| As an added bonus after completing the hardware design health check, we offer you a 10% discount on all our other services, such as: PCB design, hardware design consultancy, software development etc. For many designs this saving amounts to getting back your initial investment – which means getting expert review of your hardware design schematics for FREE! | |
Interested?
In order to find out more about our design health check service, and how we may be able to help you with your design, please feel free to contact us at designs@advsolned.com with a summary of your requirements.