TED, Tracking Energy Diagnostics
Feel the heartbeat of your machines
Avoid problems with critical assets, prevent downtime
Monitor your motor, and act before it fails
Before the motor fails, a motor sends out signals about its health. Industrial motor problems often start with light vibrations. These are so small that they can only be measured with sensors. We also see a power glitches occor. TED gives you insights and early warnings. Using TED will allow you to act in a very early stage, usually months ahead, and repair the damage at the most favorable time.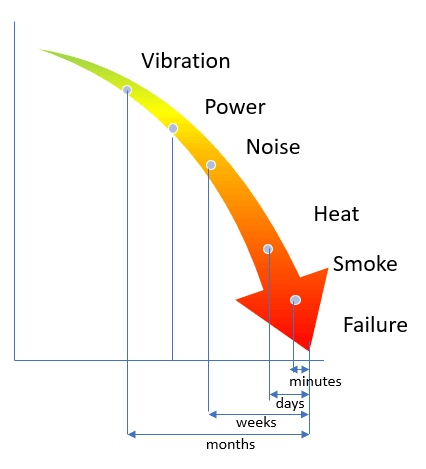 1
It starts with vibration in the higher frequency, which is hardly noticeable. When the problems start to get bigger, vibrations arise in the lower frequencies. TED measures these vibrations from 5 kilohertz. This gives you ample time to schedule a repair at the most convenient time
2
When the problem gets worse, the engine starts to drain more power. Energy costs start to rise considerably
3
Next, the engine starts to make a noise. From then on, it's usually a matter of weeks before the engine fails. For sound monitoring, an extra option for microphones is possible
4
If the problems are still not solved, the engine starts to heat up. The chance of failure is increasing and it is usually a matter of days behofe the engine fails. The repair has to take place at a possibly inconvenient time.
5
Eventually there will be smoke ….
Every form of damage has its own signature
TED measures the most common forms:
Overheating
Insulation defect
Overloads (electrical and mechanical)
Phase imbalance and any voltage imbalance lead to an even higher current imbalance
Bearing error
Running in reverse
Axle deviation
Locked rotor
Vibration
The benefits of listening to your assets:
Through early insight:
Determine beforehand which disruptions will take place
Lower the costs of maintenance
Keep old machines up and running
Prevent unexpected machine failures
In most industries, 7 up to 15% of rotating assets are failing annually. The failure of 1 machine can cause major problems for the entire business process: loss of production, non-compliance with contracts and loss of quality of products.
TED monitors your engines 24 hours a day and reports expected defects months in advance. You can schedule repairment at a convenient time, before failure takes place.
Prevent waste of energy:
Rotating parts use 28% of the electricity produced in the world. However, a significant part of this energy is lost due to inefficiency and incorrect use.
TED monitors energy consumption, so you can use energy efficiently and have lower energy costs
Increase asset efficiency:
Time-based maintenance causes a lot of unnecessary downtime. Condition-based maintenance gives the assets the right attention: prevent machines from falling out unnecessarily or that repairs have to be made at unfavorable times.
Know the status of the infrastructure is compared to the SLA at every moment of the day; follow changes in performance
Skilled staff is hard to find; maintenance tasks must be prioritized:
In the coming years, up to 40% of the experienced maintenance engineers will retire. It is becoming increasingly difficult to get trained new staff. That is why it is important that maintenance is carried out efficiently.
With TED, condition-based maintenance is possible, based on the health and performance of your assets.
1 Dashboard, 1 truth:
Clean data to properly assess the performance of machines and factory floor
You never have all the disciplines in a room for a disturbance where everyone points to each other and eventually 1 specialist solves the disturbance
Use the latest techniques in the field of digital IOT monitoring and algorithms
TED monitors the condition of your motor 24/7:
Possibly causing downtime for the entire production process
TED immediately detects small problems, so engineers can remedy the defects at the most suitable time. When incidents occur, technicians immediately receive an alert from TED.
TED predicts when a motor needs maintenance
TED the 3-in-1 solution for your most critical asset: your motor
TED monitors errors in the motor by measuring current and voltage signals:
Every healthy engine has its own signature

This signature changes when errors occur in the engine;

TED compares these changes with the signature in normal operation;

As a result, TED detects errors in the engine at an early stage;
This gives you ample time to schedule a repair at a convenient time or even to completely replace the motor.
Smart algorithms make the diagnosis
The smart algorithms have the finger on the pulse of the condition of your motor 24/7. They detect 'normal' condition, known abnormal patterns and anomalies.
Grip on your machines with alerts and dashboard
With TED 24/7 insight into the operation of your motors
from hardware, connectivity, analytics to alerts and dashboard
Knowledge of physical properties and mathematics
We actually know the physical properties of processes. So, we not only measure and then see a nice graph appear. We actually know what the underlying processes mean
Custom algorithms, based on 20+ years of experience: 82 IP scientific blocks that are directly applicable for online data streams
Internationally renowned party
We are knowledge partner of world market leaders. For example, we are the only Dutch DSP knowledge partner of ARM. 90% of IoT devices is running on ARM cores, ARM is by far the world market leader. Another example: ASN is part of the KPN 5G Lab Port of Rotterdam
We bring the latest technology to the market
ASN uses the latest technology developed by Blue Chip companies. Sometimes these products have just appeared on the market. Even more, we have also developed our products before the product was on the market.
The big advantage is that ASN works with technology that actually works: it takes a long time for companies that start from the bottom up to get a first prototype, if the design doesn't end up in "developer's hell".
ASN makes improvements based on the latest version, working closely with the core teams of its suppliers.
Advanced Solutions Nederland B.V.
Maanlander 47
3824 MN Amersfoort
The Netherlands
Tel: +31 624939718
General enquiries: info@advsolned.com
Technical support: support@advsolned.com
Sales enquiries: sales@advsolned.com