Build next generation ECG
&

PPG Wearables
with real-time analytics and long battery life
Our biomedical library provides designers with a complete solution for implementing real-time  analytics for wearable in ECG and PPG applications on industry standard Arm Cortex-M microcontrollers, such as the popular STM32 family.

The high accuracy of our ECG RCF algorithm and Advanced Analytics Engine (AAE) has been verified by cardiologists, and can be used with an additional ML model or standalone to provide people with valuable insights into potentially fatal health conditions, such as A-Fib, PVC, Bradycardia and Tachycardia heart arrhythmias without the need for an expensive medical examination at a hospital.
The Challenges for ECG
&

PPG product developers
ASN smart algorithms
&

technology for ECG

&

PPG measurement
Together with cardiologists from Medisch Spectrum Twente, ASN's advanced analytics team developed the RCF (retrospective collaborative filtering) algorithm that uses time-frequency analysis to enhance the ECG data in real-time.
The essence of RCF algorithm centres around a highly optimised set of polynomial cleaning filters with different frequency characteristics that are applied to different segments of the QRS complex for enhancement.
The polynomial filters are peak preserving, meaning that they preserve the delicate biomedical peaks while smoothing out the unwanted noise/ripple.
AAE (Advanced Analytics Engine) that automatically cleans and find these features for robust A-Fib, PVC, Bradycardia, Tachycardia heart arrhythmia analysis.
AAE supported analytics
P-wave duration
PR interval
QRS duration
QT duration (Bazett algorithm used for QTc)
HR (RR interval)
HRV (rMSSD algorithm used)
Advanced Solutions Nederland B.V.
Maanlander 47
3824 MN Amersfoort
The Netherlands
Tel: +31 624939718
General enquiries: info@advsolned.com
Technical support: support@advsolned.com
Sales enquiries: sales@advsolned.com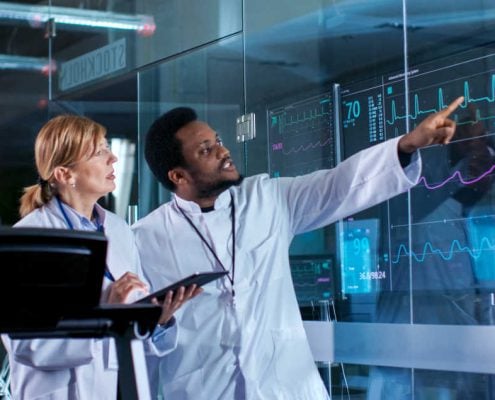 Generations have been entertained by the gadgets and future technology portrayed in Sci-fi series, such as Star Trek, but is it all science fiction? The TricorderOne device that intrigued me for years was the so called 'Tricorder' and…
https://www.advsolned.com/wp-content/uploads/2018/04/iStock-925425622_verkleind-1.jpg
635
1129
ASN consultancy team
https://www.advsolned.com/wp-content/uploads/2018/02/ASN_logo.jpg
ASN consultancy team
2018-05-29 17:10:50
2020-04-30 15:03:39
Contactless vital life signs measurement… Fact or science-fiction?