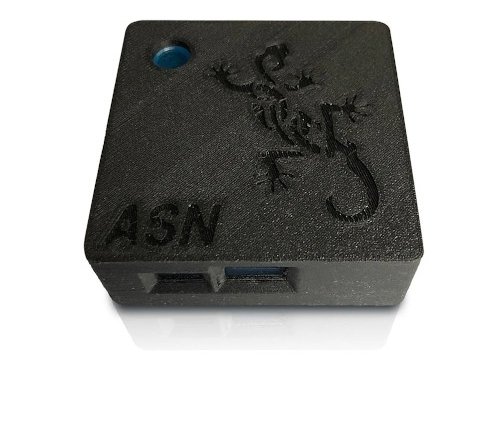 Advanced Solutions Nederland's AIRMEX employs the Nordic Thingy:52 to provide easy-to-use environmental sensors and wireless connectivity for pandemic management
Nordic Semiconductor today announces that Amersfoort, Netherlands-based, Advanced Solutions Nederland (ASN), an IoT and Industrial IoT (IIoT) sensor technology company, has selected the Nordic Thingy:52 Bluetooth® 5.2/Bluetooth Low Energy (Bluetooth LE) compact multisensor prototyping platform to provide the wireless connectivity and processing power for its 'AIRMEX' indoor environmental monitoring solution. AIRMEX is an AI-powered temperature, humidity, CO2, and TVOC (Total Volatile Organic Compounds) sensor platform that enables, for example, workplaces, schools, restaurants, and places of worship to monitor and regulate indoor environmental conditions to minimize the risk of the airborne spread of SARS-CoV-2, the virus that causes Covid-19, as well as promote overall healthy living and working conditions for occupants.
This article is retrieved from Nordic Semiconductor: original publication, 04Mar 2021 Oslo, Norway)
Recommendations for air-quality improvement
The ceiling- or wall-mounted device employs the Nordic Thingy:52's integrated humidity, temperature and gas sensors to provide continuous, near real time monitoring of environmental air quality. Running ASN's 'Chameleon' AI algorithmic application software—developed and 'trained' to promote indoor air conditions that specifically minimize the risk of the spread of Covid-19—the Nordic Thingy:52's powerful 64MHz, 32-bit Arm® Cortex® M4F processor with floating point unit (FPU), allows the solution to process the data from all four sensor. The applications software does more than simply measure and display temperature and humidity readings, rather it provides real-time updates and recommendations for air quality improvement.
The Nordic Thingy:52 integrates many useful sensors which along with its Bluetooth LE connectivity provides a cost-sensitive solution


Dr Sanjeev Sarpal, ASN
The data is relayed to a Bluetooth 4.0 (and later) smartphone, where from the partner 'Covid-AIRMEX' Android app, the user is provided with immediate feedback on overall air quality and recommendations on how to improve the environmental conditions. For example, "increase dehumidifier settings" to reduce humidity, or "very high gas levels present" to indicate inadequate ventilation. In the absence of a smartphone, AIRMEX has a multi-coloured LED indicator to provide users with an immediate overview of current environmental conditions.
AIRMEX uses a standard 1400mAh Li-ion battery to provide approximately six weeks battery life in standard operation, thanks in part to the ultra-low power characteristics of Nordic's nRF52832 System-on-Chip (SoC) at the heart of the Nordic Thingy:52. The nRF52832 has been engineered to minimize power consumption with a fully-automatic power management system that reduces power consumption by up to 80 percent compared with the nRF51 Series.
Multisensor prototyping platform
The Nordic Thingy:52 is a compact multisensor prototyping platform designed to help wireless IoT sensor projects get off the ground quickly. The product is a fully tested and working wireless sensor platform that can be used by a developer with no high-level development tools or firmware coding expertise to rapidly design wireless IoT devices and associated mobile device and Internet apps. The Nordic Thingy:52 is based on the nRF52832 SoC. The SoC features a 32-bit, 64MHz Arm® Cortex™ M4 processor with a 2.4GHz multiprotocol radio (supporting Bluetooth 5.2, ANT™, and proprietary 2.4GHz RF protocol software) featuring -96dB RX sensitivity, and 512kB Flash memory and 64kB RAM. The SoC runs Nordic's S132 SoftDevice—a Bluetooth 5-certifed RF software protocol stack for building advanced Bluetooth LE applications—it can support up to 20 concurrent connections in a variety of Bluetooth LE role combinations.
"The Nordic Thingy:52 integrates many useful sensors which along with its Bluetooth LE connectivity provides a cost-sensitive solution," says Dr Sanjeev Sarpal, Director AI Data Algorithms & Analytics at ASN. "The well written firmware libraries also helped our developers get up and running in a fraction of the time rather than starting a development from scratch, while the reference designs and good documentation were equally an important consideration in selecting the solution."
https://www.advsolned.com/wp-content/uploads/2021/03/Airmex-Covid-safe-and-healthy-office-Nordic-indoor-air-quality-1.jpg
431
497
admin
https://www.advsolned.com/wp-content/uploads/2018/02/ASN_logo.jpg
admin
2021-03-04 15:47:02
2021-03-05 16:45:25
Bluetooth LE air-quality monitoring solution helps lower risk of Covid-19 transmission