The Dutch Newspaper De Gelderlander (June 16) headlines: "Where is the virus, am I safe, am I at risk?" The newspapers write this article in response to the major demonstrations in Amsterdam and Rotterdam two weeks ago. The social distancing measures were not adhered to, as if Covid-19 did not exist. They continue: "Half the country shuddered at the sight of a full Dam. Two weeks later, the coast seems clear. Where are we at risk? Time for a mid-term review. "
The newspaper concludes that there are relatively more infections in South Holland.
Then: "Can we have big events again?" The 2 large demonstrations did not cause a major virus outbreak. That is why many hope that large events can be organized again. "Don't do it, experts warn … The virus is not yet gone, so such events are big risk moments. The more often you organize those, the more likely it will lead to infections"
Risk situations: frequent mutual contact
Based on various outbreaks, there appears to be 1 major risk situation: places where there is a lot of mutual contact. In addition, the newspaper mentions the outbreak in 2 mosques. Besides, they mention the outbreaks in meat processing and fruit growing. "It is clear that sectors with many migrant workers, who often live close together, are hit harder." In addition to employees, people who regularly visit these companies were professionals who tested positive, such as drivers.
Finally, the newspaper concludes with the WHO's warning that places where fruit and meat is traded have risks of major outbreaks. After no new Covid cases were found in China for 2 months, there is currently another outbreak in Beijing.
1.5 meters: Social Distancing remains important
Many companies such as offices and factories are currently investigating how they can safely reopen their company for their staff and visitors. Events, cultural institutions and the catering industry also want to offer the safest possible environment. It remains important to keep 1.5 meters away. If you want to learn more how a social distance badge, the covid buzzer can help, visit Covid Buzzer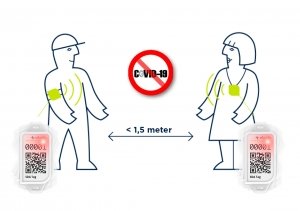 https://www.advsolned.com/wp-content/uploads/2020/06/social-distancing-covid19-covid-buzzer.jpg
580
1250
ASN consultancy team
https://www.advsolned.com/wp-content/uploads/2018/02/ASN_logo.jpg
ASN consultancy team
2020-06-17 16:02:48
2020-09-29 10:52:12
Frequent mutual contact most important risk situation for Covid-19