Competition on costs is ever increasing. Meanwhile, customers are more demanding in their expectations. In 2024, global smart sensor market will have a value of $80 billion. In others words: become part of the future or become obsolete!
Challenges Asset Managers
Asset managers are faced with the following challenges:
Asset managers demand huge cost savings
Tightening of budgets for maintenance programmes
Less service disruptions and customer complaints
Increasing demands from users
No Control and optimal use of my assets
Risk of hacking by terrorists
Remote firmware updates
With IoT, you can give your equipment a longer lifetime and thus save on repair and replacement costs.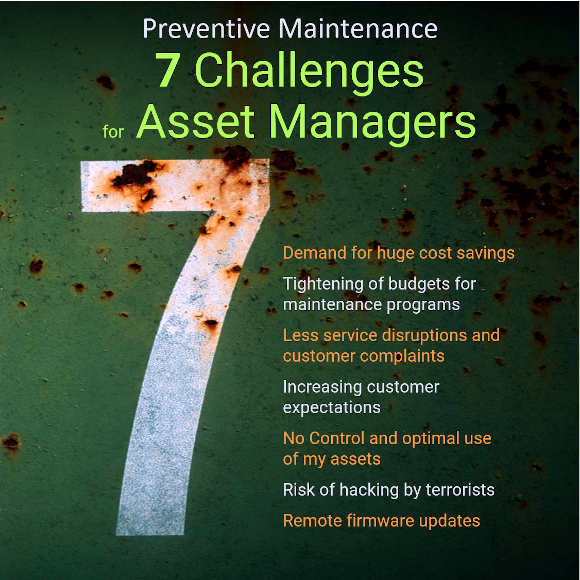 Your customers will become more satisfied with your services. With solutions which weren't possible until now, products can 'think' for their users. Like: the health of the lamp and power quality of street lights, refrigerators which will signal to a car that owner is out of milk, a space on a parking lot is reserved for the visitor when he's close to the office etcetera.
And the other way around: remember the first time you went in a hotel which had Wi-Fi and you thought: "great"! You've probably forgotten; nowadays, not having Wi-Fi has since long became a standard. In IOT, users raise the expectations and will be dissatisfied with devices which do not help them.
A dashboard helps you to view in one glance which assets are working properly and which are probably in need of repair or replacement. Further, you learn when, where and how intensely your assets are being used, so you use your assets more efficiently.
In a world of connected devices, security is very important. Hackers will try to break in: to steal, to cause harm or to shut down your devices. Without security, hackers can make their entry from anywhere: from one of your devices, but also an unsecured device from one of your employee's at home. So, in the world of IOT, security of these devices is key.
Read about solutions: https://www.advsolned.com/asn-condition-monitoring/
https://www.advsolned.com/wp-content/uploads/2019/11/Asset-manager-pipelines.jpg
1000
1500
ASN consultancy team
https://www.advsolned.com/wp-content/uploads/2018/02/ASN_logo.jpg
ASN consultancy team
2020-05-10 17:04:01
2020-05-14 16:20:40
Preventive Maintenance: 7 Challenges for Asset Managers