As of 1 June, many museums in the Netherlands have reopened to a limited extent: a maximum of 30 people can enter at the same time and they must be kept at least 1.5 meters apart. From July 1, this capacity will be increased to 100 people, if there are no problems. Under which conditions this will happen is not known. In any case, museums and events will have to ensure that the 1.5 meters is maintained.
Many museums are taking measures to provide visitors and employees with a safe environment. Find out how the Covid Buzzer can help.
Maximum capacity and time slots
The most obvious measure is to limit visitor numbers at the gate: visitors sign up for a time slot. A museum usually calculates the capacity per time slot on the basis of the available space. In any case, until 1 July, 10m2 must be available per visitor. The average duration of a museum visit is then also important: on the basis of its capacity and the average duration, the museum has an indication of the number of time slots required and the mutual overlap of these time slots.
Irregular spread
However, visitors will not be regularly scattered around the building. It is likely to be busy at some parts of the building: at entrances, wardrobes, toilets, museum shops, etc. And the same applies to the absolute top pieces: the pieces that all visitors want to see and want to view for quite some time. Museums have created walking routes and have made capacity planning that takes into account crowds at the 'hot spots' and where an extra security guard must be placed.
Self-regulating power and more capacity with the Covid Buzzer
Offering "experience" is an important condition for a successful museum visit. Visitors also want to feel welcome in Covid time. Many visitors will understand that for safety reasons they may be led through 1.5 rows along the top piece with a distance of 1.5 meters. For the rest, they will prefer to design their visit as much as possible themselves.
When visitors are enjoying themselves, they may forget to keep a distance. In addition, there will unfortunately always be visitors who do not want to take other visitors into account at all.
The Covid Buzzer helps visitors keep 1.5 meters social distance. By having every visitor wear a Covid Buzzer, these problems are solved. This goes off when visitors come within a radius of 1.5 meters. The Covid Buzzer can also offer a solution for the masterpieces, by letting visitors ensure that they keep a distance of 1.5 meters. And employees can address those who do not obey the rules several times.
Covid Buzzer: Simple, reliable and no privacy issues
The simple solution to keep a safe distance between each other. Everyone in the office, factory or elsewhere where many people gather, wears a buzzer. As soon as the buzzer meets another buzzer within a radius of 1.5 meters, a warning signal follows. The buzzer is completely anonymous, so there are no privacy issues involved. Thanks to UWB technology, the Covid buzzer has 10 cm accuracy.
Government rules after July 1; proof for 1.5 meters
As mentioned, the regulations are still unclear after 1 July. Much will depend on the extent to which museums and other visitors attracting institutions appear to be able to comply with the 1.5-meter provisions.
With the Covid Buzzer, museums show that they are actually able to adhere to the 1.5-meter stipulation.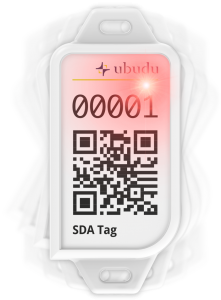 https://www.advsolned.com/wp-content/uploads/2020/06/woman-covid-19-museum-covid-buzzer.jpg
580
1250
ASN consultancy team
https://www.advsolned.com/wp-content/uploads/2018/02/ASN_logo.jpg
ASN consultancy team
2020-06-09 15:50:39
2020-09-29 10:54:40
How to maintain the social distance in a Museum with the Covid Buzzer