Vanaf 1 maart gaan middelbare scholen weer open na de lockdown vanwege Covid-19. Het basisonderwijs en de kinderopvang zijn vanaf 8 februari open gegaan. Echter: nog niet alle scholen blijken te voldoen aan de richtlijnen voor ventilatie. Dit terwijl goed ventilatie mogelijk de verspreiding van het coronavirus verminderd. En zeker draagt goede ventilatie bij tot het welzijn en is gezonde lucht beter voor leerprestaties
Scholen gaan weer open
Het basisonderwijs en de kinderopvang is vanaf 8 februari weer open gegaan. Vanaf maandag 1 maart gaan de middelbare scholen en mbo-instellingen voor alle leerlingen weer open: op 23 februari heeft het kabinet besloten dat alle leerlingen en studenten minimaal 1 dag per week fysiek naar school gaan. Dit om meer perspectief aan jongeren te bieden: fysiek onderwijs draagt bij aan het welzijn en is beter voor leerprestaties.
Ventilatie schoolgebouwen: 777 schoolgebouwen voldoen nog niet
Het Landelijk Coördinatieteam Ventilatie heeft onderzoek uitgevoerd naar alle scholen (primair en voortgezet onderwijs) in hoeverre scholen voldoen aan de ventilatienormen. Hiervoor heeft zij in september een vragenlijst verstuurd.
Uit dit onderzoek blijkt dat nog niet alle schoolgebouwen aan de wettelijke normen voor ventilatie voldoen: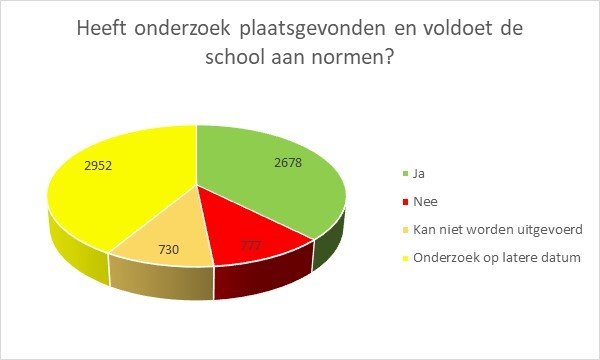 In september 2020 is door 7340 ingevuld. Uitgaande van 9331 is dit 79% van het totaal aantal scholen.
777 scholen geven aan dat zij niet voldoen aan de richtlijnen. Dit is 11% van de totale respons van 7137 schoolgebouwen. Oftewel 22% van de scholen aangeven dat het onderzoek heeft plaats gevonden. Hier zijn technische aanpassingen nodig.
2952 scholen geven aan dat zij voldoen aan de richtlijnen. Dit is 78% van de scholen waarbij het onderzoek heeft plaats gevonden. Hierbij wordt wel bij 325 metingen opgemerkt dat men nu voldoet, maar zich zorgen maakt over de wintermaanden.
2678 scholen geven aan op korte termijn onderzoek zullen uitvoeren, bijvoorbeeld wanneer er CO2 meters beschikbaar zijn
730 scholen geven aan dat ze het onderzoek niet kunnen uitvoeren. "Als redenen om het onderzoek niet uit te voeren geeft men voor 128 gebouwen het onderzoek 'later, op een nog niet bekend tijdstip uit te voeren' en wordt voor 155 gebouwen opgemerkt dat geen CO₂-meters beschikbaar zijn."
Bij het niet hebben kunnen uitvoeren speelt ook mee dat het onderzoek op korte termijn heeft plaats gevonden: sommige scholen hadden geen technici beschikbaar of gaven het onderzoek geen voorrang.
Scholen blijven open als ventilatie niet goed is
Schoolgebouwen moeten voldoen aan de wettelijke normen voor een gezond binnenklimaat conform het Bouwbesluit en de aanvullende richtlijnen. Hiervoor stelt het kabinet € 360 miljoen beschikbaar om scholen te helpen de ventilatie op orde te krijgen.
Coronavirus en ventilatie
Op de site van de Rijksoverheid:
"Ventilatie en verspreiding van het coronavirus
Overdracht van het virus vindt vooral plaats bij verspreiding van grote druppels, via bijvoorbeeld hoesten en niezen, aldus het RIVM.
Het is op dit moment onduidelijk of kleine druppels, de zogenaamde aerosolen, een relevante rol spelen bij de overdracht van het virus.
Ventileren en luchten helpen om luchtweginfecties te beperken.
Het RIVM adviseert in ieder geval de bestaande regelgeving en richtlijnen op het gebied van ventilatie en luchten te volgen. Dat geldt ook voor scholen. Bovendien leren leerlingen het beste in een prettige omgeving met gezonde lucht.
Het is onbekend in welke mate ventilatie helpt om de verspreiding van het virus daadwerkelijk tegen te gaan."
Belang van ventilatie op welbevinden en leerprestaties
Sowieso is het coronavirus niet de enige reden voor ventileren:
Ventilatie kan helpen gezondheidsklachten als hoofdpijn te verminderen
Leerlingen leren het beste in een prettige omgeving met schone lucht.
Het advies van de GGD is dan ook om scholen niet te sluiten bij onvoldoende ventilatie. Ook het kabinet noemt het belang van fysiek onderwijs voor het welzijn en leerpresaties in haar besluit om middelbare scholen en mbo-instellingen weer te openen, ondanks stijgende covid-19 aantallen.
Scholen die niet aan de normen voldoen, krijgen hierover nu al advies van de GGD, de arbodienst en Kenniscentrum Ruimte OK. Ook kunnen scholen gebruik maken van de handleiding die het Coördinatieteam heeft opgesteld. Zoals nemen van maatregelen als het plaatsen van roosters en het aanvullend luchten in pauzes.
Oplossingen als de Airmex kunnen helpen om de luchtkwaliteit in een schoolgebouw te bewaken door niet alleen CO2, maar ook temperatuur, luchtvochtigheid en volatiele deeltjes te meten. Dit voor een gezonde en prettige leeromgeving te creëren.
https://www.advsolned.com/wp-content/uploads/2021/02/ventilatie-school-covid19-co2.jpg
420
630
ASN consultancy team
https://www.advsolned.com/wp-content/uploads/2018/02/ASN_logo.jpg
ASN consultancy team
2021-02-26 11:59:02
2021-02-26 13:08:35
Scholen weer open, ventilatie voldoet niet altijd